References and Web Resources
From KNILT
Link to: ETAP 623 Spring 2014 Home | Lisa's Perreault's Portfolio | Mini-Course: Understanding Reflection: Using the Reflective Learning Journal
http://20114z02.wordpress.com/reflective-journal-rubrics/ http://allthingslearning.wordpress.com/2011/09/
http://www.bradford.ac.uk/wimba-files/skill-space/Reflective_Writing_HTML/page_04.htm
http://arts.brighton.ac.uk/stibbe-handbook-of-sustainability/additional-chapters/critical-and-reflective-thinking
http://www.chrismadden.co.uk/cartoon-gallery/category/more/
Darling-Hammond, L. (2008). Power Learning: What we know about teaching for understanding. San Francisco, CA: Jossey-Bass.
http://www.docstoc.com/docs/2610689/REFLECTION-JOURNAL-Rubric
http://www.docstoc.com/docs/29999446/JOHN-DEWEY-AND-REFLECTIVE-THINKING
http://engres.ied.edu.hk/assessment/onlineReading/embpolicy.html
http://genuardis.net/reflective/reflective-cycle-gibbs.htm
Gibbs, G. (1988). Learning by doing: A guide to teaching and learning methods. http://pdp.northampton.ac.uk/PG_Files/pg_reflect3.htm
Hartsell, T. (2013). The effectiveness of using digital movies as a form of reflection. Journal of Educational Technology Development and exchange, 6 (1), 31-46.
Kaye, C.B. (2014). Meaningful reflection: A practical approach. Principal Leadership, 20-24.
http://langwitches.org/blog/2013/02/05/assessment-in-the-modern-classroom-part-one/
http://langwitches.org/blog/2009/05/13/it-is-about-reflecting-and-analyzing-our-teaching-practice/
Larson, M.B. & Lockee, B.B. (2014). Streamlined ID: A Practical Guide to Instructional Design. NY: Routledge Taylor & Francis Group.
Liuoliene, A. & Metiuniene, R. (2009). Students' learning through reflective journaling. Santalka, 17(4), 1-5.
http://miketidd.com/2010/05/22/reflective-teaching/
http://peak-ict.wikispaces.com/Reflective+Practice
http://www.pinterest.com/pin/142637513171830275/
Rodgers, C. (2002). Defining reflection: Another look at John Dewey and reflective thinking. Teachers College Record, 104 (4), 842-866.
Shambaugh, R.N. & Magliaro, S.G.(1997). Mastering the possibilities: A process approach to instructional design. London: Pearson.
https://student.unsw.edu.au/reflective-writing
http://teaching.berkeley.edu/rubrics-0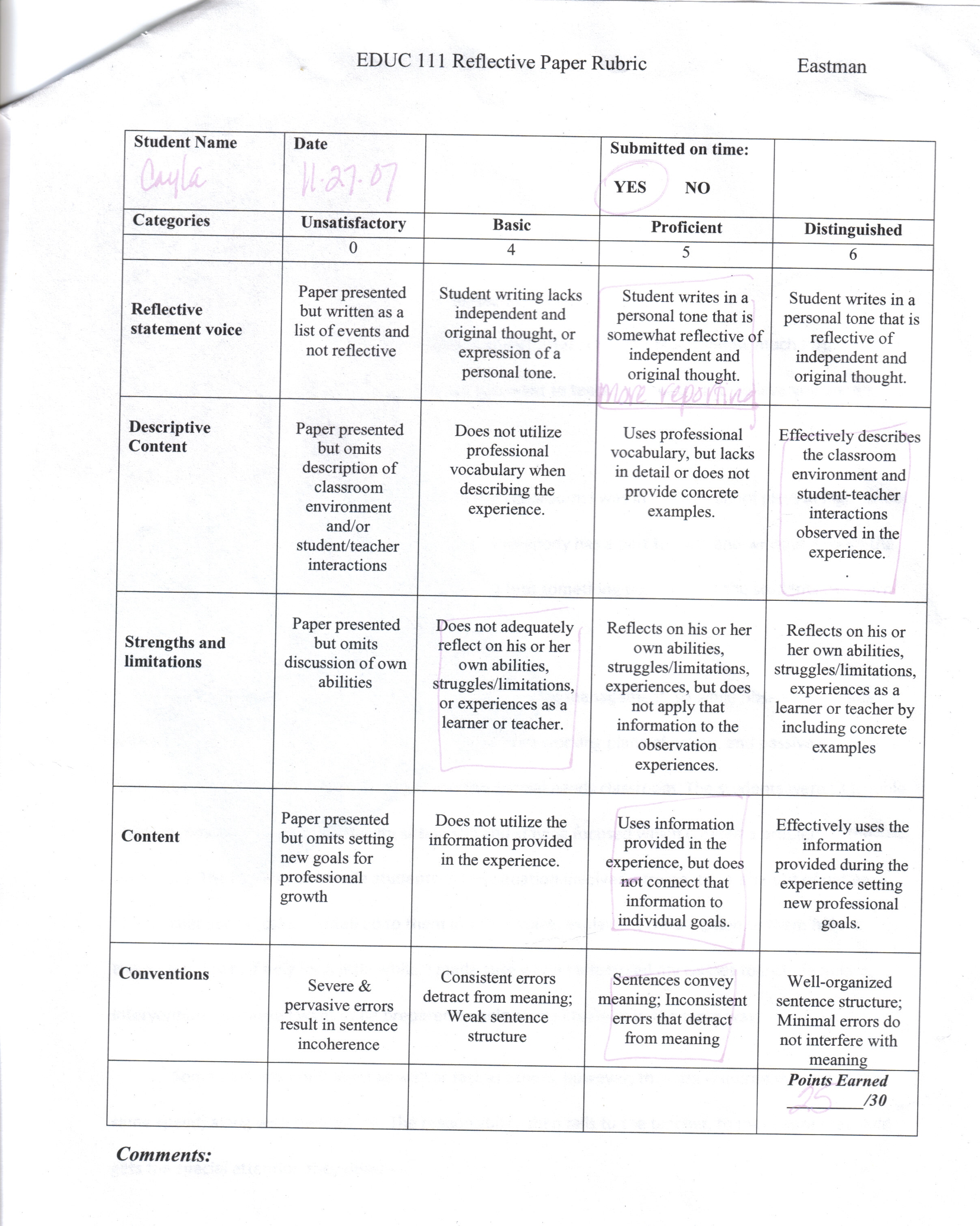 Walker, S.E. (2006). Journal writing as a teaching technique to promote reflection. Journal of Athletic Training, 41(2), 216-211.
LINKS:
Unit 2: What is Gibb's Cycle of Reflection
Unit 3: What is a Reflective Learning Journal?