Samantha Schwartz's Portfolio Page
From KNILT
Return to: ETAP Spring 2014 Home | Samantha's Portfolio|Samantha's Personal Page|Samantha's Mini-Course
Topic/purpose
The intent of this course is to help educators understand what project based learning is and provide an an example in a high school classroom. Research has found that students who are taught in a project based learning environment versus a traditional classroom structure understand more of their instruction. "PBL increases long-term retention of content, helps students perform as well as or better than traditional learners in high-stakes tests, improves problem-solving and collaboration skills, and improves students' attitudes towards learning" (Edutopia, 2012).
Questions that will be answered:
What is project based learning?
What does it look like in a high school classroom?
What kind of assessment can be used?
How can PBL be used in other content areas?
Needs Assessment
The Issue:
Teachers are always looking for new effective ways to instruct their class. Teachers are expected to target their learners, provide outcomes and objectives to a diverse population of students, and assess their learning. With that said, a project based learning classroom provides a student-centered environment where the teacher facilitates the process while students seek the content while fostering multiple learning styles so every students can reach their goals.
Information from recent literature and interviews with current Family and Consumer Sciences teaching staff will be gathered to find the needs for project based learning.
Findings from interviews:
Teachers in Family and Consumer Sciences prefer using the project based learning environment because it increases motivation, engagement, and group work. These teachers also feel that when used correctly, other content areas can benefit from this environment.
Goals:
Teachers from all content areas use the information in this mini-course to think of ways they can provide students with a student centered, project based classroom. Teachers will also see the ways in which project based learning adds to traditional lecture and teaches students to critically think, problem solve, and collaborate.
To provide the definition of project based learning, how it applies to a family and consumer sciences classroom, and how it can be used in other content areas.
This unit begins with the definition and overall understanding of what project based learning is. That is followed by and understanding of how project based learning is utilized by proving and example from a child development course in the Family and Consumer Sciences subject area. There will also be a description of a student created rubric for a project based learning activity. At the end of the unit, users will engage in an activity that helps them constructively think of ways their classroom can engage in a PBL environment.
This unit has been designed based on constructivism with the focus on student-centered activities, situated learning, and learning as a collective process.
Prerequisites:
Performance Objectives
By the end of this unit instructors will demonstrate understanding by:
Explaining what project based learning is and its benefits to high school students
Viewing of project-based learning course example
Developing a student-based rubric of assessment for a PBL lesson
Adopting PBL instructional strategies for their specific content area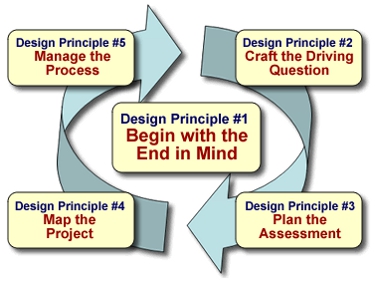 Task Analysis
Lesson One What is Project Based Learning?
1. Educator will learn the definition of project based learning
2. Educator will learn 4 specific characteristics of a project based learning classroom
3. Educator will learn the benefits of a project based learning environment
Lesson Two What does Project Based Learning look like in a Child Development classroom?
1. The educator will view an example of a project based learning lesson to better understand the concept

Lesson Three How do you assess a project based learning project?

1. The educator will understand the benefits of students creating their own rubrics
2. The educator will learn a step-by-step process in creating a student rubric

Assessment The educator will create a project for students based on their content specialty and create with a rubric to evaluate their work.
Curriculum Map


References and Resources
Blumenfeld, P. C., Soloway, E., Marx, R. W., Krajcik, J. S., Guzdial, M., & Palincsar, A. (1991). Motivating project-based learning: Sustaining the doing, supporting the learning. Educational psychologist, 26(3-4), 369-398.
Grant, M. M. (2002). Getting a grip on project-based learning: Theory, cases and recommendations. Meridian: A Middle School Computer Technologies Journal, 5(1), 83.
Larmer, J., & Mergendoller, J. R. (7). Essentials for project-based learning.Educational leadership, 68(1), 34-37.
Larmer, J., & Mergendoller, J. R. (2011). The Main Course, Not Dessert.
Lokken, S. L., Cheek, W. K., & Hastings, S. W. (2003). The impact of technology training on family and consumer sciences teacher attitudes toward using computers as an instructional medium. Journal of Family and Consumer Sciences Education, 21(1), 18-32.
Solomon, G. (2003). Project-based learning: A primer. TECHNOLOGY AND LEARNING-DAYTON-, 23(6), 20-20.