Difference between revisions of "Samantha Schwartz's Portfolio Page"
From KNILT
Line 7:
Line 7:
 

== '''Topic/purpose''' ==

 

== '''Topic/purpose''' ==

 
 
−

In today's classroom it seems and research has agreed that students learn best being hands-on in the classroom. As time goes on, the traditional structure of a classroom should be changing to foster additional ways in which students show their understanding of the content.

+
−

 

 
−

In a project based learning classroom the teacher gives the students a "whole" concept and they must work together to find the "parts" of the content and bring it back together. The students are given resources, technology, support and students must research concepts and apply them to their learning. Students are involved in multidisciplinary assignments and the classroom is centered on them, not the teacher.

 
−

 

 
−

PBL serves as a classroom filled with student opportunities in; problem solving, connecting and addressing real life issues, is facilitated by the teacher, and lets students take control of how and the best way of learning the instruction. PBL has been found to motivate students, encourage a deeper way of thinking, promote collaboration between students and teacher, and use the newest forms of technology.

 
−

 

 
−

PBL is also very beneficial when students are able to create their own rubric for their projects. Creating the rubric decreases student confusion of what is expected and a clearer picture on what they are responsible for in their learning.

 
 
 
 

== '''Needs Assessment''' ==

 

== '''Needs Assessment''' ==
---
Revision as of 15:13, 14 February 2014
Return to: ETAP Spring 2014 Home | Samantha's Portfolio|Samantha's Personal Page|Samantha's Mini-Course
Topic/purpose
Project Based Learning
Needs Assessment
Performance Objectives
By the end of this unit students will be able to:
Understand what project based learning is and its benefits to high school students
Explore a project-based learning course example
Adopt PBL instructional strategies for their classroom
Develop a student-based rubric of assessment for a PBL lesson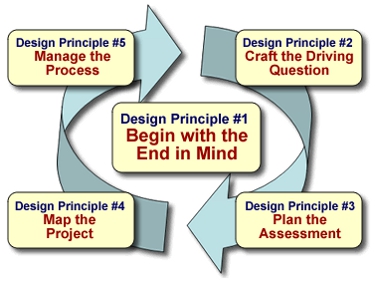 Task Analysis
Curriculum Map
References and Resources
Blumenfeld, P. C., Soloway, E., Marx, R. W., Krajcik, J. S., Guzdial, M., & Palincsar, A. (1991). Motivating project-based learning: Sustaining the doing, supporting the learning. Educational psychologist, 26(3-4), 369-398.
Grant, M. M. (2002). Getting a grip on project-based learning: Theory, cases and recommendations. Meridian: A Middle School Computer Technologies Journal, 5(1), 83.
Larmer, J., & Mergendoller, J. R. (7). Essentials for project-based learning.Educational leadership, 68(1), 34-37.
Larmer, J., & Mergendoller, J. R. (2011). The Main Course, Not Dessert.
Lokken, S. L., Cheek, W. K., & Hastings, S. W. (2003). The impact of technology training on family and consumer sciences teacher attitudes toward using computers as an instructional medium. Journal of Family and Consumer Sciences Education, 21(1), 18-32.
Solomon, G. (2003). Project-based learning: A primer. TECHNOLOGY AND LEARNING-DAYTON-, 23(6), 20-20.
www.friedtechnology.com